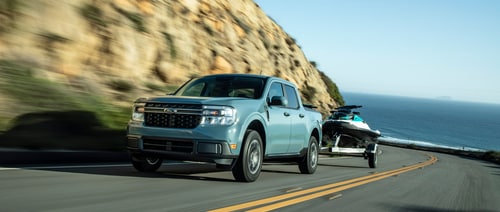 These days, more electrified vehicles are available than ever. With prices coming down and tax incentives to help bridge the costs for the average driver, electric vehicles are becoming more easily attainable. Ford models are no exception. New hybrids, plug-in hybrid electric vehicles (PHEV), and all-electric vehicle (EV) options are coming off the assembly line and making their way to garages everywhere. With the expanding public charging stations, you can even take all-electric cars on road trips and do everything you would in a conventional gas vehicle. Sacrifice in performance is becoming a thing of the past thanks to rapidly advancing technology that makes PHEVs and EVs more powerful than vehicles that run on gas. The Ford Escape Hybrid SUV and Ford Maverick Hybrid truck are two hybrid options if you are ready to get on the road toward electrification.
How Ford Hybrid Vehicles Work
Ford hybrid vehicles use a gas engine paired with an electric motor to help increase fuel efficiency and performance. They are a great option for drivers who are not quite ready to go fully electric. You also don't have to charge a hybrid because the electrical components are self-contained, and the battery recharges itself using regenerative braking and the gas motor. It is a great middle ground if you want to reduce emissions because hybrids provide excellent fuel efficiency without changing your usual driving habits. You fill up at the pump like normal, though less often than with a conventional gas vehicle. The Ford Escape also comes in a PHEV version if you want to take advantage of the current federal tax incentives.
Current Tax Incentives for the Ford Escape PHEV
Thanks to the Inflation Reduction Act of 2022, the Ford Escape PHEV qualifies for $6,843 in federal tax credits. The credits are set to expire at the end of the year. If you are interested in the plug-in hybrid version, be sure to make the purchase before January 1st to qualify for the credit. Contact our team today to see which hybrids qualify for other incentives and credits.